Mentions of Malibu bring up images of beautiful Southern California beaches where surfing is the main passion. Waterfront living and Malibu are truly inseparable. Add luxury to the mix, and you get a picture of what this iconic community is all about.
Over the years, Malibu has been home to numerous A-listers and some of the most successful business leaders in the country. In addition to miles of wide, white sandy beaches and stunning canyons, the combination of isolation and accessibility makes this resort city the perfect base for anyone looking for utmost work-life balance.
A brief history of Malibu
In the early 1800s, the Malibu area was part of the Rancho Topanga Malibu Sequit. The land was purchased in the late 1800s by Frederick Rindge, who developed it into a private estate.
For years, Frederick and his wife May fought to keep the property private, but
after Frederick's death in 1905, the widowed May had to make concessions to pay off tax liabilities, and slowly gave up parts of the land. With the coming of the Pacific Coast Highway in 1929, more people learned of the beauty of the place and began to move to the canyons around the Rindge property.
In 1929 the property was finally subdivided, but incorporated as a city of Los Angeles County only in 1991.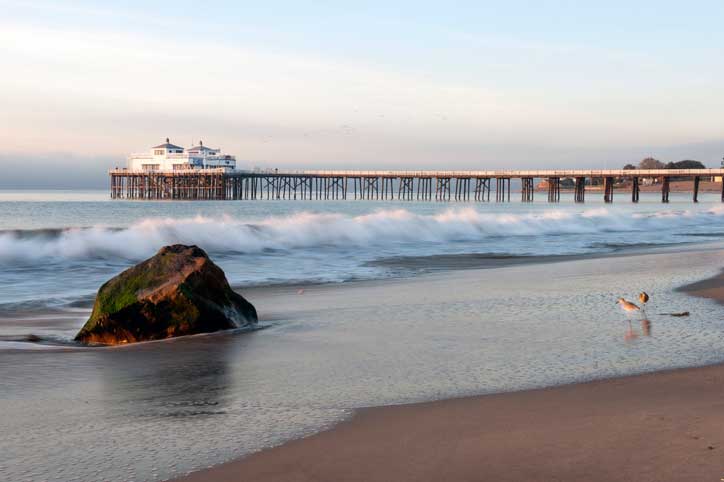 Real estate in Malibu and Malibu homes for sale
Homes in Malibu are defined by the area's geography. Lying between the Pacific Ocean and the Santa Monica Mountains, properties in the city are segmented by location.
Along the beach, you'll find gorgeous Malibu waterfront homes for sale with amazing outdoor living areas that fully incorporate views of the ocean and provide quick access to the beach, some of which are private.
Further inland, luxury homes are perched on hills and canyons, with stunning overlooking views of the water and the mountains.
Malibu homes come with distinctive architecture in various styles, but contemporary is the most popular choice. Many properties are more than one acre in size, providing utmost privacy and comfort. You can expect the finest finishes and appointments, as well as amenities like private swimming pools, entertainment rooms, and seamless indoor-outdoor living.
There are quite a few gated communities within Malibu, including the historic Malibu Colony, which was established in the late 1920s as a vacation community for Hollywood stars.
Upscale condos and townhomes also make up part of the real estate market in the city.
Lifestyle and attractions
In addition to unparalleled beachfront living, Malibu also offers great access to Los Angeles's top attractions, including the city's fantastic shopping and dining.
A few must-visit destinations close to home include:
Monica Mountains National Recreation Area
This protected area is one of just five places in the world with a Mediterranean climate. It encompasses several smaller parks, including Whitestone National Park, Griffith Park, and National Forest, where you'll find over 500 miles of trails. Camping, horseback riding, biking, and hiking, as well as bird and wildlife watching, are just some of the activities you can do here.
Malibu Pier
This historic attraction is best known for its historic twin white towers, as well as for the adjacent Surfrider Beach that attracts surfers from around the world. Malibu Pier also features excellent restaurants and shops, boat and beach equipment rentals, and sports fishing and whale watching tour providers.
Adamson House Museum
The Adamson House was built in 1929 by Rhonda Ringe Adamson, the daughter of Frederick and May Rindge, and served as the family's home until 1962. It was declared a California Historical Landmark in 1985.
Learn more about living in Malibu and explore your real estate options in this legendary community. We at Malibu Premier Homes have the experience, knowhow and network to be your perfect guide. Call us today at 310.614.1954 or email us at [email protected]
Sorry we are experiencing system issues. Please try again.