What's inside: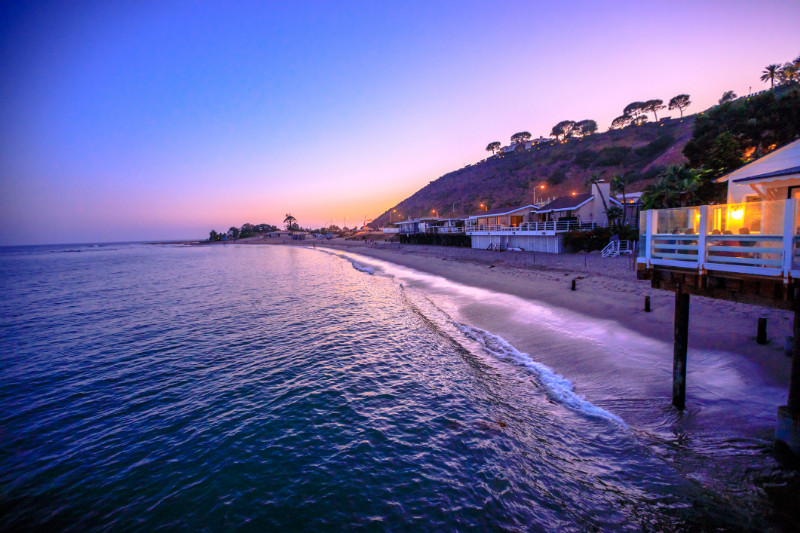 From the pleasant Mediterranean climate to the picturesque coastline to the exceptional real estate options, it's easy to see why the coastal enclave of Malibu draws countless tourists and new residents year after year.
Nestled in a prime location between the Pacific Ocean and the soaring Santa Monica Mountains, Malibu is a city that's synonymous with luxurious beachfront living. It's a city that has built its reputation as an icon of prestige and success, with a large percentage of its population consisting of A-list celebrities, star athletes, tech moguls, and billionaire entrepreneurs. 
With world-class shopping and dining, beautiful outdoor venues, a stellar lineup of festivals and events year-round, and a sun-kissed 21-mile-long coastline, Malibu offers the finest of what Southern California has to offer. If you're searching for the perfect place to buy a second home, you'll be hard-pressed to find a location more prestigious, alluring, and picturesque as Malibu.
Planning to buy a home in Malibu, California? You've come to the right place! On this page, you'll find an overview of the city, a glimpse of some of the attractions, activities, and destinations you can look forward to, and some tips that can help you find an ideal second home that suits all of your unique requirements and preferences. 
Malibu at a glance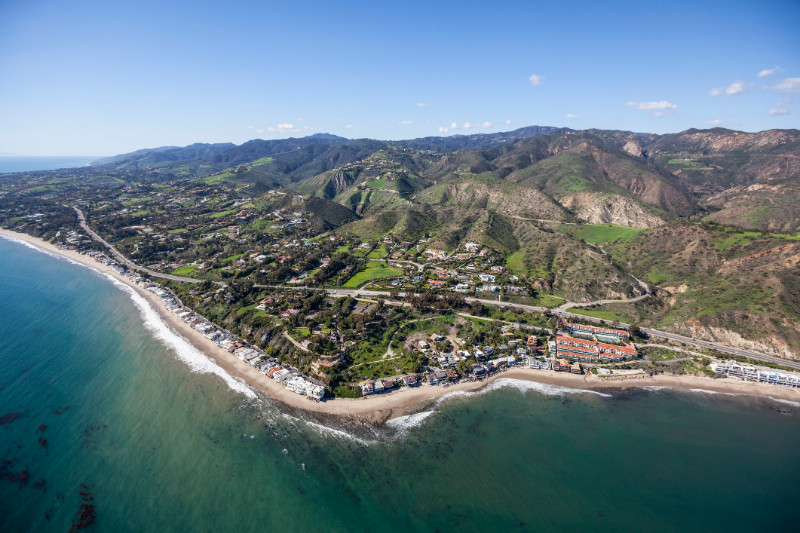 Location
The city of Malibu is located in northwestern Los Angeles County, around 30 miles west of Downtown Los Angeles. The city encompasses roughly 20 square miles in the Santa Monica Mountains region, bordering Topanga in the east, which separates it from Los Angeles.  
Climate
Malibu experiences a warm-summer Mediterranean climate with no average monthly temperatures going beyond 71.6 °F annually. Compared to communities located further inland, Malibu experiences relatively more moderate temperatures as its climate is largely influenced by the Pacific Ocean. 
Cost of living
Malibu is included in the Los Angeles-Long Beach-Glendale Metro Division area, which is currently ranked 12 out of 273 cities in the US in terms of cost of living. 
According to The Council for Community and Economic Research (C2ER), Malibu's cost of living is approximately 146% of the national average, which makes it one of the more expensive cities to live in the US.
Top reasons to buy a second home in Malibu, California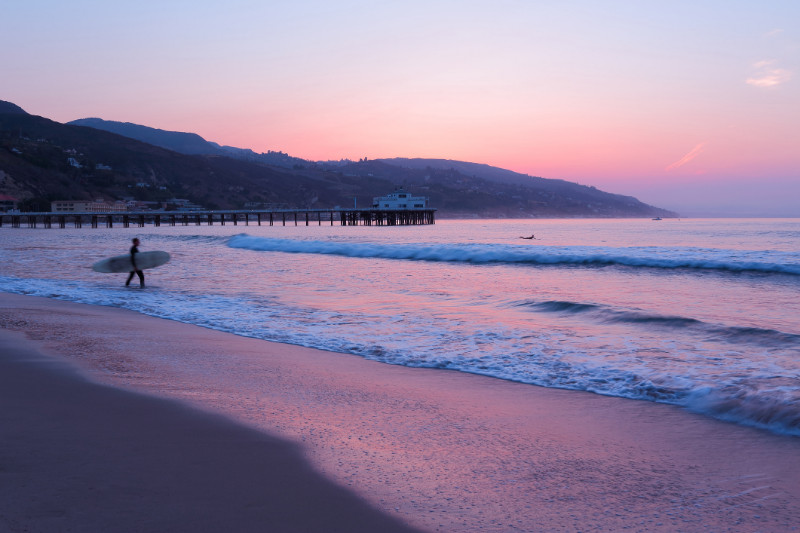 Whether you're searching for the perfect vacation home or an investment property to diversify your portfolio, there are many excellent reasons why investing in the Malibu real estate market is a smart financial move.
Malibu's prime location
Experienced real investors know that it's all about location, and Malibu is definitely one of the best locations if you're searching for the finest investment properties. 
The city is served by the Pacific Coast Highway and is a quick drive away from major locations like Santa Barbara, Monterey, and many coastal communities in nearby Oregon and Washington.
With its proximity to both employment hubs and recreational venues, the city's superb location is one of the top reasons why so many new residents are attracted to Malibu. Of course – the incredible ocean views and relaxed beach town vibe are certainly nice bonuses as well, which is why most listings in Malibu are only available on the market for a brief period of time. 
Malibu's diverse assortment of homes and neighborhoods
Although Malibu is known for its impressive selection of high-end oceanfront estates, many people are unaware that there's a diverse variety of property types and communities that can accommodate almost any buyer.
If you're looking forward to a luxurious beachfront lifestyle, you'll find communities like Malibu Colony, Escondido Beach, or the famed Carbon Beach, also known as "Billionaire's Beach."
If you want a more secluded location surrounded by natural beauty, Malibu's canyon communities like Bonsall Canyon, Latigo Canyon, Ramirez Canyon, and Trancas Canyon offer panoramic views of serene meadows and rolling hillsides. 
For equestrians, Malibu features communities like Malibu Canyon and Winding Way, which offer easy access to top-rated equestrian facilities and a vast network of scenic riding trails.
Those looking for houses to buy in Malibu will have no shortage of excellent properties to choose from that will perfectly match their lifestyle.
The beautiful beaches and the unparalleled surf culture
With more than 21 miles of picturesque coastline, Malibu is known for having the finest beaches in all of Southern California. No matter where you're located, you'll always be a few minutes away from world-class beaches such as Surfrider Beach, Topanga Beach, and Zuma Beach.
Most of Malibu's beaches are open to the public, while others are exclusive to Malibu residents. If you're looking forward to a relaxing and laid-back seaside lifestyle, you'll find a selection of terrific oceanfront communities that feature private access to the city's most picturesque beaches. 
Malibu's stunning beaches have captured the attention of surfers from all over the world due to their exceptional surfing breaks during peak conditions. Whether you're an avid surfer yourself or just someone who enjoys the relaxed surf town atmosphere, Malibu's surfing culture is second to none. By the 1960s, the coastal city became the epicenter of California's surf culture, which has since remained part of its unique identity.
Incredible local events and attractions
Malibu is home to a vibrant assortment of attractions and hosts a stellar lineup of events year after year. The diverse array of places to check out and events you can look forward to are just some of the many reasons why investing in Malibu real estate is a solid decision. 
Whether you're looking forward to seeing amazing works of art at the Malibu Arts Festival, participating in prestigious events like the Malibu International Marathon or the Malibu Nautical Triathlon, there's always something exciting to look forward to around the corner, which is why Malibu is such a sought-after place to call home. 
Helpful tips to keep in mind when buying a second home in Malibu
It's hard to imagine residing in a picturesque and relaxed beach city like Malibu being anything other than a permanent vacation. However, you want to make sure you take all the right steps to make your dream beach town lifestyle a reality.
Purchasing a property in Malibu has historically been a sound investment due to its prime location, world-class local events and attractions, and array of superb real estate options. Diving headfirst into the home buying process without taking time to research and prepare, however, often leads to making uninformed decisions. 
Whether you're planning to buy a home in Malibu, California as a vacation home or as an investment property, here are a few crucial mistakes to avoid:
Impulse buying while you're on vacation
Buying a new home without considering every single ramification of your purchase is one of the biggest mistakes you can make.
When you're on vacation, buying a second home might seem like a good idea at the time, but it may prove to be a faulty decision as soon as reality sets in. If you feel like purchasing a home in the area is really something you want to do, the best move is to wait until you return home from your vacation, just to be sure you're making a decision while having a clear frame of mind.
If you buy a second home in Malibu on a whim, there's a chance you may end up with a property you're unable to afford, or one that isn't right for your needs or long-term goals. The last thing you want to do is to commit to such a significant purchase simply because you're driven by your emotions while you're on vacation. 
Failure to do your due diligence
Purchasing a home in Malibu without taking a closer look at the current market as well as the property's condition or its actual value can be a costly mistake to make.
Before proceeding with your purchase, be sure to do in-depth research on the property by conducting a professional home inspection. Consider completing additional inspections by specialized professionals in case it's recommended by the initial inspection. 
Not taking time to analyze your long-term needs and goals 
You need to be realistic if you want to find a second home that's perfectly suited for your lifestyle, as well as your requirements and preferences. 
If you're using your Malibu home as a weekend getaway, then a location that's within a day's drive away from your primary residence might be a smart move. Will you be using your Malibu home as your retirement spot in the future? Then you want to make sure you cover all bases by assessing its accessibility and proximity to health care services within the area. 
Not calculating the major costs involved
The price of the property isn't the only major cost to keep an eye on when you're trying to calculate investment outcomes. You need to factor in insurance premiums, taxes, and other major expenses that come with your purchase.
Whether you're searching for houses to buy in Malibu to use as a vacation home or as an investment, having a detailed overview of every cost involved will be essential. 
Steps to buying a second home in Malibu, California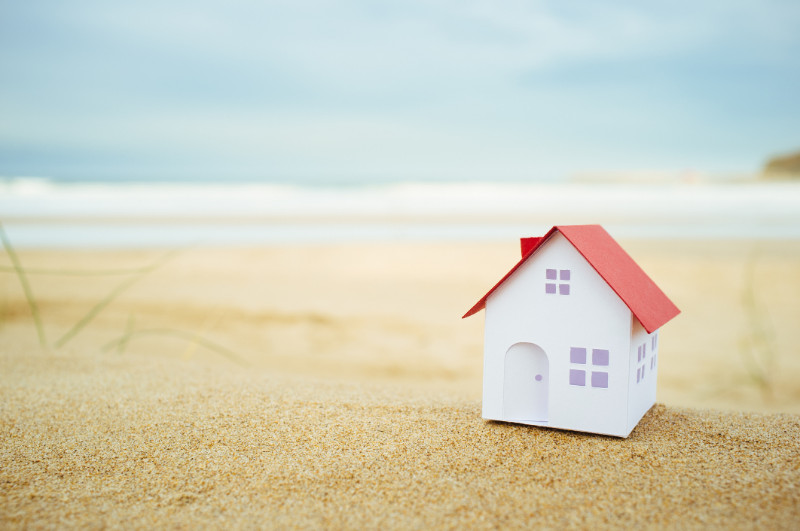 Taking time to research the various steps in the home buying process will be key to making educated and well-informed decisions when you're looking for houses to buy in Malibu.
Due to the city's reputation as one of the most affluent coastal cities in the world, buyers looking to invest in Malibu's real estate market could face plenty of competition at times. But as long as you have an experienced and knowledgeable agent at your side, you'll be able to find a home that matches your lifestyle at the right price.
To help you prepare for your purchase, here are the key steps to buying a home in Malibu, California.
Get preapproved
Getting preapproved is always a good move, as it gives you a more accurate idea of how much you'll be able to spend. It also lets sellers know that you're a serious buyer, which will be extremely helpful in a hot market like Malibu where the finest listings are often fleeting. 
While standard requirements differ from lender to lender, some of the basic documents you need to get preapproved include:
Bank-issued statement displaying proof of semi-liquid funds or liquid assets for purchase or down payment
Quarterly statements with proof of assets including savings, checking, and investment accounts
Two years of Federal tax returns
Two years of W-2 tax forms
30 days of pay stubs
In some cases, you may be able to qualify for a home priced way beyond your budget, so it'll help to calculate the amount of mortgage you'll be comfortable paying, and then zero in on an ideal price range for the home.
Gather information on Malibu's different areas and neighborhoods
When you buy a second home in Malibu, it isn't just about the investment or how much you spent to buy the property. It's the lifestyle aspect – where you'd love to live and all of the different factors that will make your dream home in Malibu a reality.
Overall, a home in Malibu is a solid investment no matter which area you choose. If you dream about waking up to the soothing sounds of waves crashing on the shore, then Malibu's beachfront homes and those perched on the bluffs are for you. For nature lovers who enjoy hiking, homes in the canyon communities are a perfect choice.
When it comes to choosing the right area in Malibu for your second home, it isn't necessarily about where the "best place" to buy is. It's more about who you are and your vision of your dream home.
Choosing the right home
Creating a list of must-have features in your second home will be very helpful during your search. Before you start looking for houses to buy in Malibu, remember to jot down the basics, such as number of bedrooms and bathrooms, square footage, lot size, and so on. Then, list down specific features you'd like to have such as expansive outdoor lounging spaces, resort-style swimming pools, high-end kitchen appliances, or access to the beach.
Have your list handy as you view listings so you can filter out any homes that don't match your requirements and preferences. This is where working with a real estate agent who specializes in the Malibu market will be a huge help. An experienced agent will take a look at your list and help you narrow down your options until you've found the perfect home, and then negotiate for the best price that accommodates your budget.
Place an offer
Once you've found the best choice for your second home, let your agent know that you're ready to make an offer, so they can help you set the right amount.
The seller may accept, reject, or counter your offer. You have the option to counter their offer by renegotiating until both parties agree to a price.
Get a professional home inspection 
Once your offer is accepted, you can proceed with getting a professional inspection, which will help detect any potential problems with the home. If any issues come up during inspection, you can ask the seller to fix the issue or readjust the price to compensate. You also have the option to get an additional appraisal to determine the home's true value to make sure you won't be overpaying.
Negotiate the home's final price
Once all parties agree on the final price, the transaction will then move to closing. The escrow process typically takes around 30 to 40 days on average, but can sometimes take longer for more complicated transactions. However, if there are no backlogs and everything moves along smoothly, the process could move along much faster. 
At this stage, you will place a deposit on the house, which shows the seller that you're serious about your decision to buy the home. 
Hire a real estate lawyer
During the final stages of the process, you may want to consider hiring a real estate lawyer to help you navigate the closing process and give you a better understanding of all of the contracts and documents that come with the transaction.
Your real estate lawyer will also prepare any required legal documents, review any expenses you may need to pay and ensure your loan comes through just in time by working with your lender. All important financial information will need to be submitted to your real estate lawyer prior to closing. 
Getting the keys to your Malibu home
Right before closing, you will get another opportunity to visit the home to check if it's in the same condition as when you first viewed it. 
Your real estate agent and lawyer will be there during closing to make sure you have a full understanding of all important details in every document you sign. After you've finished signing all documents and presented proof of title insurance, you will then get the keys to your Malibu home.   
These are just some of the steps you will need to prepare for when you're searching for houses to buy in Malibu. As long as you take time to research and work closely with your real estate agent, you'll be able to make well-informed decisions that will lead you towards your goal. 
Begin your search for the perfect second home in Malibu today!
Are you ready to buy a home in Malibu, California? Get in touch with us at Malibu Premier Homes today! We are a team that has built a reputation for providing unparalleled service for those looking to fulfill their real estate goals in Malibu.
We have years of experience in the Malibu area and are fully dedicated to helping our clients achieve the best results possible. Talk to us about your real estate goals today by calling 310.614.1954 or sending an email to
MalibuPremierHomes(at)gmail(dotted)com