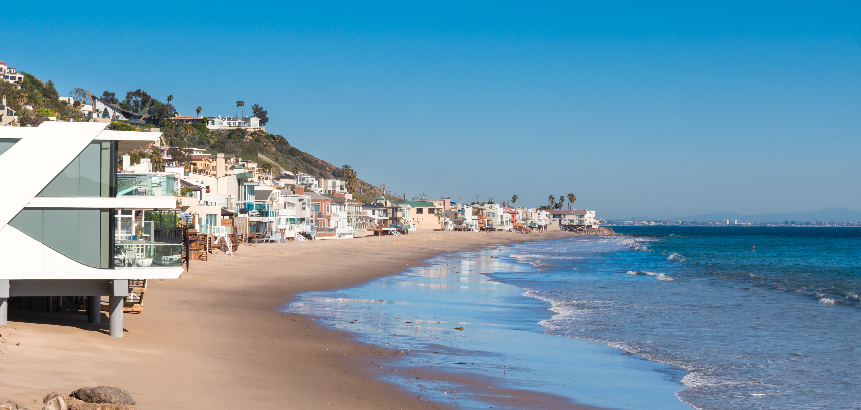 Live it up on Malibu's beautiful shores
The City of Malibu is known for many things. It's one of Los Angeles County's most sought-after addresses. It's a playground for the rich and famous. It's an iconic place that's deeply ingrained in popular culture.
But the city's claim to fame will always be its pristine beaches—all 21 scenic miles of it. If you're in the market for a beach house, here's why Malibu should be at the top of your list.
All About Malibu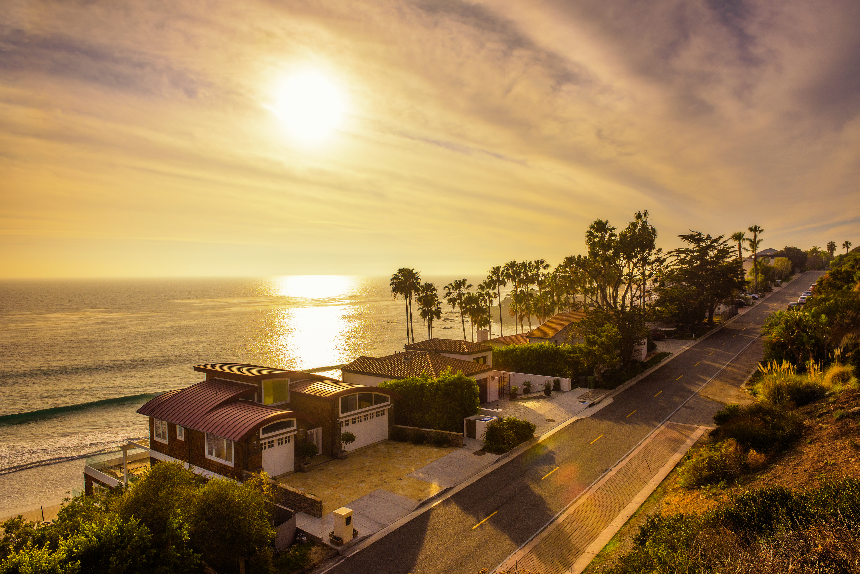 Located in western Los Angeles County, Malibu is a small but affluent seaside city that is to about 12,000 people. Despite being one of the area's smaller cities, Malibu has one of the highest numbers of celebrity residents, with A-listers like Lady Gaga, Leonardo DiCaprio, Roberty Downey Jr., and Cher all owning properties here.
The city has some three dozen beaches, many of which are dotted with prime waterfront properties. Most of these shorelines are publicly accessible, meaning you can swim, surf, and sunbathe whenever the mood strikes you. Among the most popular beaches in the area are Amarillo Beach, Big Rock Beach, and El Sol Beach.
Malibu is blessed with California's balmy weather, making any day an ideal beach day. It gets 281 sunny days out of the year and receives less than 20 inches of rain annually. Because of this, BestPlaces.net gives the city a glowing 9/10 on its Comfort Index.
A bevy of award-winning restaurants cater to the refined palates of Malibu's residents, including Ollo, Nobu Malibu, and Maestro's Ocean Club. And if you want to treat yourself to some retail therapy, places like the Malibu Lumber Yard and Malibu Country Mart offer a great mix of chain stores and boutique retailers. And for some fun and relaxation, destinations like the Malibu Pier, the Getty Villa, and Solstice Canyon are excellent choices.
Of course, living in a prestigious community comes at a hefty price. According to Zillow.com, the average Malibu home costs a cool $3.3 million. If you're interested in beach homes specifically, that price goes up to the mid-high seven digits and all the way to the high eight digits. But with features like grand bedrooms, modern kitchens, and opulent bathrooms, that's money well spent.
To know more about oceanfront houses in Malibu, take a look at our comprehensive guide:
Beach houses 101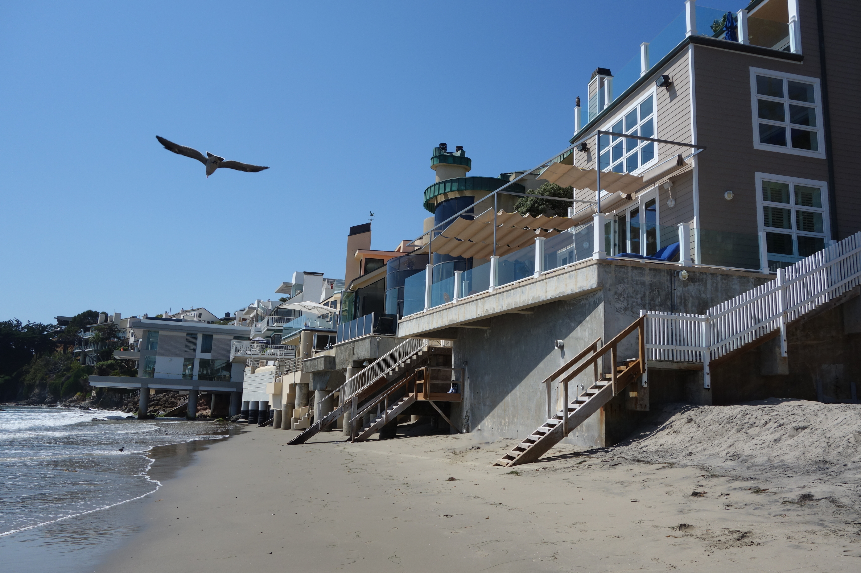 While the term "beach house" might seem self-explanatory, merely being close to the shore does not automatically make a property a beach house. After all, it has to take advantage of the natural scenery while withstanding exposure to the elements. Below are some of the quintessential characteristics of a bonafide oceanfront home:
Streamlined design
Coastal homes tend to have streamlined designs both inside and out. Instead of ornate elements and clearly delineated rooms, these abodes favor simple lines and free-flowing floor plans. Furthermore, continuity between indoor and outdoor areas is paramount, ensuring that nature is always at your doorstep. This quaint but charming aesthetic allows beach houses to integrate seamlessly into their natural surroundings. Their designs are functional but stylish, minimalist yet inviting.
Bright and breezy
To achieve that signature coastal vibe, beach houses typically use light colors and finishes on their walls and roofs. As you might know, bright colors reflect sunlight which helps keep oceanfront homes cool. Sliding doors and big windows, meanwhile, allow plenty of light to enter. Such houses also often come with wrap-around porches that allow you to enjoy the scenery from all angles.
Weather resistant
Building a beach house requires special consideration as it is exposed to the elements year-round. Materials must be carefully chosen to resist factors such as corrosion, humidity, and rust. Likewise, reinforced glass panels are used in windows as they can withstand whipping winds. Many houses are also built on stilts to protect them from high tides and storm surges. If you're looking at beachfront properties, pay close attention to their weather-proofing features.
Primary or vacation residence
Many people live in their Malibu beach house full time because they enjoy the laid-back seaside lifestyle. But just as many treat their beach house as a second home, using it for a few weeks or months out of the year and renting it out the rest of the time. Because of this, many properties come with luxurious amenities designed to attract renters, such as resort-like pools, deluxe bathrooms, and entertainment centers.
One style, many expressions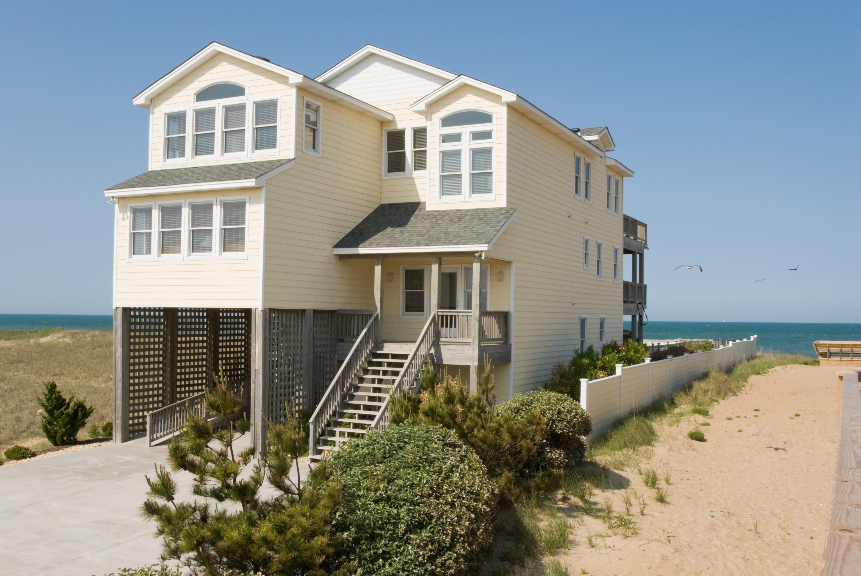 Though all beach houses exhibit similar characteristics, they also come in various architectural styles. This means that whatever your design inclinations may be, you're sure to find a property that tickles your fancy.
Cottage
Cottages are cozy houses inspired by rural dwellings in the countryside. Hearkening to simpler times, cabins are defined by design touches like stucco walls, gable roofs, porches, and bay windows.
Cabin
Want a rustic beach house? Then a cabin-style home is just what you need. These wood-framed houses have simple architectures and are reminiscent of frontier homes from the Old West.
Cape Cod
Considered by many to be the quintessential beach house style, Cape Cod homes date back to the Colonial Era and are closely associated with the New England region. Its symmetrical design and large living space (called the "hall') are trademarks of English architecture.
Craftsman
The Craftsman architectural style became popular in the 1800s and 1900s, offering an alternative to the ornate Victorian homes of the day. It focuses on straightforward design, and counts low-pitched roofs, tapered columns, and overhanging eaves among its signature features.
Coastal contemporary
There are also beach houses designed in a contemporary style but retrofitted to be weather-resistant. They include many of the hallmarks of beach houses, including clean lines, the use of natural materials, and open layouts.
Of course, architectural style isn't the only thing that sets apart one beach home from another. Take a peek inside and you'll see that different properties offer different features, too.
Features that delight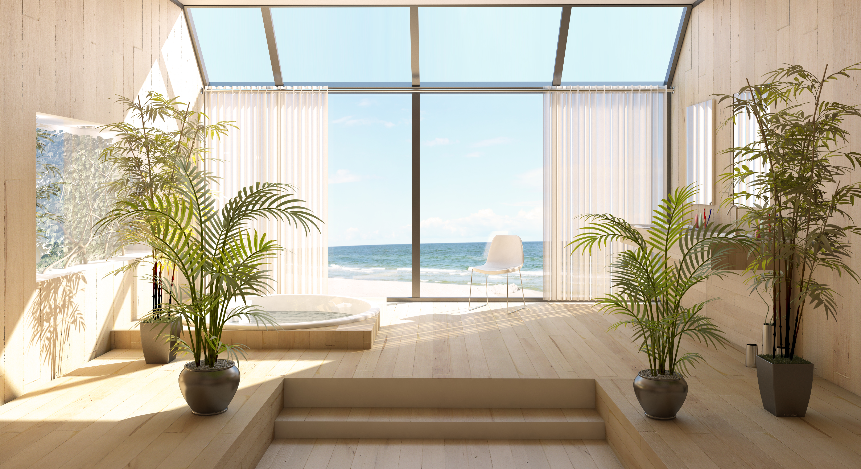 Beach houses are the epitome of leisurely living. After all, who wouldn't want to wake up to the stunning views, the rejuvenating air, and the calming ocean waves every day? And these must-have amenities can make an oceanfront home even more luxurious:
Oversized windows
A million-dollar home deserves a million-dollar view, and this is exactly what oversized windows provide. If the beaches of Malibu are nature's masterpiece, wall-to-wall windows are the perfect frame for it—with them, looking out the window is like looking at a living artwork. Big windows are best utilized in places like the living room where people gather, as they give everybody a breathtaking view of the beach. They're often found in bedrooms, too, which allow you to watch the sun rising over the ocean. Many homes also sport wrap-around windows that give you a 360-degree view of the oceanfront.
Easy beach access
When the mercury rises, there's no better way to cool off than a quick dip in the ocean. Luckily, the best beach houses tend to be located right by the sea, so the water is just a short walk away. Given how in-demand oceanfront properties are, though, expect these homes to be in short supply. Buying a beach house a little ways from the shore is also viable as long as it has easy access to the waterfront. When looking at listings, ask how far the property is from the beach and what the walk will be like. Proximity is also important if you plan to turn your property into a vacation rental, as beach access is one of the first things potential renters will look at.
An infinity pool
If you feel like taking a swim at night but don't want to brave the cold ocean water, a heated infinity pool should be right up your alley. More than just a pool, this amenity uses optical trickery to marry the man-made with the natural. Is it any wonder why infinity pools are such an in-demand feature in beach homes? The most Instagram-worthy pools are expertly constructed, as they must be built on a slope to allow the view to seamlessly blend into the horizon. A pool-side bar and some lounge chairs, meanwhile, create a truly resort-like vibe.
Modern upgrades
Beach houses are all about beautiful views, but sophisticated touches make them truly feel like home. Imagine taking a leisurely bath under a rainfall shower, before stepping out onto a heated tile floor. Or dimming the lights and lowering window blinds using just your phone thanks to a smart home system. Modern upgrades like these don't just make daily living more convenient, they also increase the value of the home, which is vital should you ever decide to sell it in the future.
Entertainment
Are you a big fan of throwing brunches and dinner parties at home? Then be sure to get a beachfront house with an open-concept floor plan. This layout is defined by a distinct lack of walls so you can see all main-level rooms in one sweep, making it easy to ensure that all guests are having a good time. And because there are no walls, friends and family can better appreciate the beachside views. Of course, no luxury home is complete without a state-of-the-art home entertainment system, which includes a large-screen TV, surround sound speakers, plush chairs, and mood lighting.
Outdoor living space
Many beach house owners extend their living space outdoors by adding a porch or deck. These spaces are the perfect place to set up a breakfast or reading nook, where you can take in the view while lounging comfortably. It is crucial that the transition between indoor and outdoor areas is seamless. As such, things like steps and ledges are out, while sliding glass doors and continuous flooring are in. When viewing properties, check that the design of the deck or porch is consistent with the rest of the home.
Spa-like bathroom
High-end bathrooms typically have an open-concept layout, which gives the space a bright and airy feel. A free-standing marble or granite tub lends a sophisticated touch, while oversized windows allow you to enjoy the view while you soak. Walkthrough showers with dual showerheads, meanwhile, evoke the glamor of staying at a five-star hotel. To make the atmosphere even more relaxing, some owners even put in a sound system so they can enjoy their favorite tunes as they luxuriate in their spa-like bathroom.
As you can see, the best oceanfront properties spare no expense when it comes to splendid features. Whether your home will be used as a primary residence or a vacation rental, these amenities are sure to create a delightful experience.
Make the move to Malibu
With its world-class beaches, fascinating culture, and glitzy reputation, Malibu is truly the best place to purchase a beachfront home. As with all buyers, though, you'll want to get the best property for the best price possible.
And that's where Malibu Premier Homes comes in. With a team of agents with extensive experience in luxury real estate, we are here to make your dream of owning a beachfront house a reality. From shortlisting properties, to negotiating the price, to coordinating inspections, to closing the deal, expect to receive only the highest level of service every step of the way.
We'd love to tell you more about how we can help you. Feel free to give us a call at 310.259.7999 or email us at team(at)malibupremierhomes(dotted)com. Our team will be more than happy to answer any questions you may have.